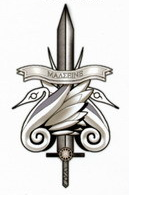 Duke David Mad-thane is the captain of the Claimh Solais, flagship of the Mad-thane Fleet, and is charged with the defense of Minagith and Norkia from the invading Disith. The defense of Minagith fails when the Disith break battle regulations and launch a surprise attack. Though the code of chivalry demands that the Mad-thane Fleet fight and die to the last man, a letter from his daughter delivered by Claus Valca and Lavie Head convinces Duke Mad-thane to order a retreat and live to fight another day. This action causes him to be branded a coward by other nobles.
The surviving ships of the Mad-thane Fleet later join the Alliance. Duke Mad-thane is impressed by the character of the Disith commander Nestor Messina, stating "There is hope yet for the world's survival". Above all, Duke Mad-thane desires a peaceful world.
Duke Mad-thane is married to the Lady Mad-thane and has one daughter, Holly Mad-thane.
Spheres 2
Community content is available under
CC-BY-SA
unless otherwise noted.