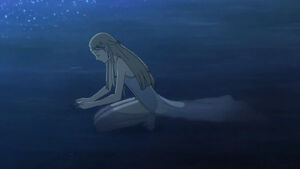 Grand Lake is a large lake on Earth. It borders several countries, including Ades Federation, Turan, and Glacies.
The countries of Ades and Turan both hold the Grand Lake to be sacred. When Ades proposed a peace treaty, it was decided that the ceremony would be held at the lake, in the belief that not even Ades would attack such a sacred location. However, the peace proposal was a trap, and Luscinia Hāfez attacked regardless.
Later, the peace treaty between Turan and the United Kingdom of Anatoray-Disith was sealed at the Grand Lake.
Locations in the Grand Lake
[
edit
|
edit source
]
The location of Grand Lake on the map of Earth corresponds with the present-day Mediterranean Sea, though it seems to have expanded and joined with other nearby bodies of water. The site of the false peace conference, for instance, is in the present-day Black Sea.
The Grand Lake is presuambly the body of water featured during Resign, the last episode of the first series.
Community content is available under
CC-BY-SA
unless otherwise noted.