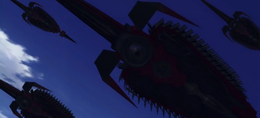 The Senapati is a ship in the Ades Federation fleet. It is the head of the Ades Fourth Fleet with Sorūsh as its commander. This vessel has been sunk on the Battle for Boreas by the Admirari under the command of Orang.
Trivia
[
]
"Senapati" is the Hindi word for general. It comes from "sena", which means army, and "pati", which means leader.
This fleet has a large reputation for "speed", hence sometimes called God's speed.
Gallery
[
]